MARYLAND SOUND DEBUTS SUBWOOFERS POWERED BY POWERSOFT M-FORCE® LINEAR MOTOR TECHNOLOGY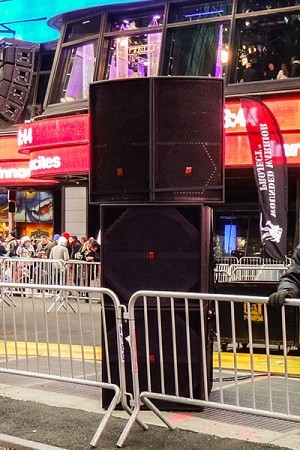 New York, NY, January 27, 2014 — Maryland Sound International (MSI) employed some of its inventory of 200-plus Powersoft K Series amplifiers to drive the PA systems for the Countdown and Nivea stages during New York City's iconic New Year's Eve festivities in Times Square, which are attended by an estimated one million people and watched by a further one billion worldwide. This year's celebrations at the "Crossroads of the World" also marked the debut of MSI's new proprietary BB30 subwoofer, which incorporates Powersoft's revolutionary, patented M-Force® linear motor technology and delivers a frequency response that is flat to 20 Hz.
This was the sixteenth year that MSI has provided production sound for the New Year celebrations in Times Square. According to Bob Goldstein, owner, MSI, "One of the many reasons we use Powersoft amplifiers is because of their form factor. They're lightweight, compact and fit where we need them to go. They are also very reliable. It's a very hostile environment in Times Square—freezing cold, rain, snow, ice and steam—and yet they just keep working. Plus, they are very powerful amplifiers and their sound is transparent and terrific."
MSI is annually tasked by the Times Square Alliance to provide sound reinforcement of the New Year's Eve announcements and entertainment, which this year included Melissa Etheridge, Miley Cyrus, Macklemore & Ryan Lewis, Blondie, Icona Pop, Jencarlos Canela, El Dasa and Rodney Atkins, in the bowtie formed by the intersection of Broadway and Seventh Avenue between 43th Street and 48th Street. "We do a Hail Mary going north of 48th," says Goldstein, whose company deployed a combination of JBL line arrays and proprietary MSI boxes.
This year, to provide coverage of the VIP area—approximately 15,000 people positioned between 43rd and 44th Streets—MSI elected to use its M-Force-powered BB30 sub. "M-Force has proven to be not only an amazing piece of technology per se, but also a tool allowing for a number of different speaker design approaches, and Powersoft has been very supportive in exploring the M-Force capabilities during the development of this product. While we've used variations in the past on other shows this is the first time this box has been used at an event of this type. We were blown away. Two boxes per side gave really powerful bass to a large, unenclosed area where usually you would need a lot more subs to cover."
M-Force, introduced to the public in 2013, is an innovative method of acoustic transduction that combines the latest technologies in power amplification, magnetic materials and advanced real-time DSP. Powered by Powersoft proprietary Switch Mode amplification, M-Force is an innovative linear motor characterized by a moving magnet and genuine push-pull behavior.
Each of the BB30s was driven by 8,000 watts of power. "We can tell there's a lot more power handling available, but we haven't been able to feed enough power into them to find out what the upper limit is," says Goldstein, who believes the devices could handle upwards of 20,000W.
Each stack of BB30s was topped by a pair of MSI's new side fills. "We thought we'd see how they coupled and how they sounded together in a relatively controlled but large environment. They covered the area beautifully; there was plenty of level and they sounded great."
Last year, MSI co-developed a larger subwoofer that also utilizes Powersoft's M-Force technology. The MP30 was designed in collaboration with Matt Polk of Polk Audio, a partner with Goldstein in another of his businesses, which acoustically stress-tests buildings and structures. After the first test using the MP30 on a structure in downtown Manhattan, during which the occupants of a building 700 feet away feared they were under attack, he recounts, "We were worried that the BB30s would generate complaints from building tenants in Times Square, because the cabinets do in fact go down flat to 20 Hz. But we got no complaints."
Goldstein originally envisioned the BB30 being a 20 Hz to 60 Hz device, he says. "But further testing proves this device is extremely useful from 20 Hz to 120 Hz. You hear something and you say, that sounds great, I don't think you can get anything to sound better than that. Then you come across a device like this. It doesn't hurt your ears. It's like experiencing the ultra-low notes of an incredible pipe organ. It has phenomenal impact."
MSI's target for the BB30 is anyone producing music featuring ultra-low frequency sources such as percussion or synthesizer, especially EDM (electronic dance music), says Goldstein. "I don't think there has been a concert where 20 Hz has truly been experienced by the audience. And when you have music where very low frequencies are being generated—and even if you don't—the BB30 adds a perceivable dimension that's never been producible for large audiences. The MSI-BB30 sub utilizing Powersoft technology is revolutionary and a really exciting addition for the live performance audience experience."