The Eclectic Sounds of Brandi Carlile at Madison Square Garden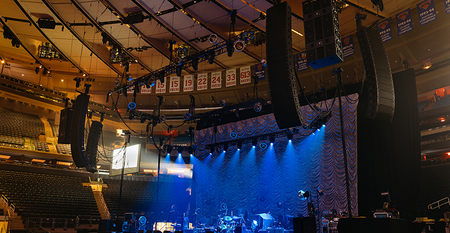 CONCERTS
The Eclectic Sounds of Brandi Carlile at Madison Square Garden
Oct 15, 2019 3:14pm
JBL loudspeakers for Brani Carlile at Madison Square Garden
NEW YORK CITY— Front of House Engineer Sean Quackenbush and Maryland Sound International recently deployed JBL VTX A Series Line Array Loudspeakers at Brandi Carlile's Madison Square Garden performance to deliver world-class sound in the legendary venue.
Brandi Carlile is a three-time GRAMMY Award-winning artist known for her diverse, eclectic sound. Since the release sixth studio album in 2018, the critically acclaimed By the Way, I Forgive You, Carlile has been performing at venues and festivals all across the country. Recently, Carlile performed for a sold-out crowd of more than 20,000 people at the world-renowned Madison Square Garden (MSG) in New York City. In order to ensure the pristine sound with balanced, even coverage throughout the massive venue, Carlile's Front of House Engineer Sean Quackenbush teamed up with leading production company, Maryland Sound International (MSI), to design a JBL VTX A Series line array loudspeaker system.
"The coverage is the most important thing, so everybody is getting the exact same show that I'm hearing at the mix position," said Quackenbush. "We wanted to make sure there was coverage from the front row to the top row of the arena, and have the tonality stay the same from front to back. With some manufacturer's boxes, they throw a long way but the actual sound of the mix drastically changes, whereas with this system, the sound was the same from Row 1 of the floor to Row Z of the balcony upstairs."
For the performance at MSG, Quackenbush and MSI deployed a state-of-the-art JBL audio system including 64 VTX A12 loudspeakers, 12 VTX S28 subwoofers, 12 VTX G28 subwoofers, an array of VTX A8 and F35/64 loudspeakers as front fills, and almost 100 Crown I-Tech 12000HD and 4x3500HD amplifiers. By utilizing both ground and flown subs, the team was able to deliver consistent low-end information from the ground floor to the upper tiers or the balcony.
"The Garden is a really tall building seating-wise, so the vertical coverage we needed to achieve is what drove how many boxes we used," said Robert Jones, Account Manager at MSI. "Line-arrays tend to be narrower, that's kind of their function. You make up the vertical coverage by adding more boxes. The only real challenge was figuring out how much horizontal coverage we needed going around the sides. We ended up using two of the A12-W's at the bottom of the main arrays, so the last two boxes are actually the wides, which are 120 degrees horizontal."
VTX A12 line array loudspeakers feature JBL's next-generation transducer technology and a patented high-frequency WaveGuide design, which provides high sensitivity and linearity in any environment. That's why Quackenbush requests JBL VTX loudspeakers at every gig.
"The first time I heard the A12 two or three years ago, I said 'This is a different animal from everything I've ever used before,'" said Quackenbush. "It's just amazing; the clarity, the tonality, the controllability. What you can do with this sound system is just heads and tails above anything that JBL or HARMAN has done before. When we revamped our rider this year, I made sure that that was one of my top choices. So when it came time to do the Madison Square Garden show and I knew the A12 was an option, I just said 'Yeah.' The feedback I've gotten from everybody who was there has been like 'It was stunning.'"
"With the A12, JBL has managed to find a way to achieve high frequencies without getting the artifacts the traditional compression driver generates," said Jones. "Somehow, they've managed to eliminate a lot of that. It's a really smooth and powerful sound. They've also improved the rigging to make it deploy faster, smoother and easier. It's excellent packaging. They made it easier and a little more fool-proof."
JBL loudspeakers for Brani Carlile at Madison Square Garden
Quackenbush was especially impressed with how quickly the crew was able to fly the system. VTX line array loudspeakers are equipped with JBL's patented rigging mechanism and redesigned suspension system for streamlined, rapid deployment and setup.
"The rigging was one of the reasons we chose the A12," said Quackenbush. "I'll be honest with you, it took longer to actually to get the equipment in the building than it did to get it in the air. Normally you're waiting to get it up, and down and sideways. It was amazing—it just went in and went up right away."
The system was powered using state-of-the-art Crown I-Tech amplifiers, which feature onboard DSP for fine-tuning system performance. I-Tech amplifiers are also compatible with JBL Performance Manager, a next-generation software application that dramatically reduces design time, simplifies networking and automates control of networked audio systems for live concert events.
"Performance Manager gives you a real-time readout on the amps so you can keep tabs on what's going on," said Jones. "In the old days, if you thought you had a problem, you had to go backstage look at the amp racks and see if one of them catching on fire. If something was going on, there wasn't any way to tell. With Performance Manager, you can see all that in real time. You can tell if you've got an amp that is running low, or if you've lost a driver somewhere."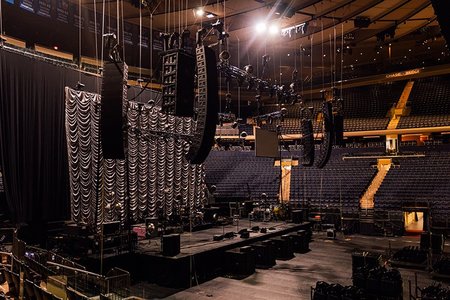 Quackenbush has used the A12 system to mix Carlile at an array of high-profile events in the past, including Milwaukee Summerfest and an all-star concert in Tahoe, although he was unsure of what to expect when mixing in the legendary MSG.
"We've been using the A12 a lot this summer," said Quackenbush. "It's one of the main choices on our rider because I know I can get exactly what I want out of it. But arenas are a different animal. To go into an arena, it's almost like mixing a completely different show. At Madison Square Garden especially, there's a time crunch. It's hard to find enough time to listen to every instrument individually and hear how it's going to react to the room. We did a little bit of tuning, and honestly, I used the least amount of EQ I've ever used on a PA—nothing more than 3 to 4 dB on my system EQ. I had clarity and punch. I had an amazing show from beginning to end."
Carlile is set to begin her next nationwide tour in September of 2019.